Dog Registration & Refund
All dog owners must register their dog(s) with the Council in the district where the dog is kept, and all dogs must be registered by 1 July every year. If you are new to the Rangitīkei area, have a new dog, or have an unregistered dog, you need to register your dog with the Council immediately or before the dog is three months old.
If your dog is registered at another district and you move to Rangitīkei , you can have your dog registration transferred at no cost.
Under the Control of Dogs Bylaw you are now required to apply for a Multi Dog Permit if you have more than 2 dogs.
No occupier/s of any property in an residential area (as per Councils District Plan) shall allow or cause to remain or keep on the property, more than two (2) dogs, over the CONTROL OF DOGS BYLAW | Rangitīkei District Council 7 age of three (3) months (whether or not such dogs are registered) unless the occupier has obtained a multi-dog permit from Council.
A multi-dog permit and fee may be issued upon or subject to such terms, conditions or restrictions as Council may consider necessary and any breach of such terms, conditions or restrictions shall result in revocation of the permit.
Any person requesting to allow or cause to remain or to keep more than two (2) dogs on any premises as provided in the Bylaw shall apply in writing to Council in such form as may be required by Council for a multi-dog permit. The permit issued is for a three (3) year period.
Registration fees are set for all dogs each year. The registration fee shall be payable on or before 31 July in each registration year.
---
Forms
** Notification of Deceased Dog Forms need to be accompanied with a bank deposit slip or proof of bank account. We are unable to process this form without this identification. Emailed screenshots of bank accounts are accepted. Screenshots must show the account holders name and bank account number.
---
Payments:
Internet banking
Reference: Owner number or name
Bank Account Details:

Rangitikei District Council - 03-0683-0195600-00

In person
via EFTPOS or Cash (No Cheques after 28 May)

Marton: 46 High Street, Marton 4741
Bulls: Te Matapihi, 4 Criterion Street, Bulls 4818
Taihape: 90 Hautapu Street, Taihape 4720
---


Council's tiered fee structure reflects a partial "user pays" system in that the dog control activity is partially funded through Council rates as the service incorporates an element of public good associated with community safety outcomes. Despite payment of both registration and impounding fees Council does not fully recover the costs associated with this regulatory activity.

The dog registration fees are set by Council each year and reflect the respective levels of service required by each category of dog owner. Payable by 1 August each registration year, reduced registration fees are payable for neutered dogs, working dogs, and "good owners" providing an incentive for responsible dog ownership.
Every dog must be registered every year. Where a dog is of the age of three months or less, the application to register the dog shall be made before the dog is three months old. Accordingly, when a dog is first registered only the balance of the current years registration fee is payable.
Dog owners are required to advise Council promptly of any change of dog ownership or address.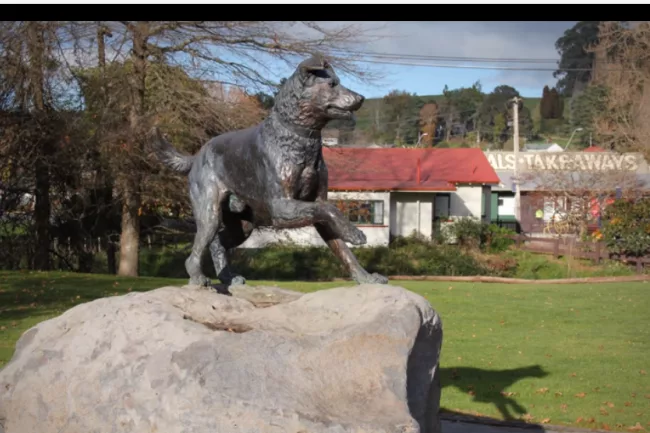 Statue at Hunterville